/forever bumming around on photoshop and other photo editors.
i have been so lazy with my blogging lately, mostly because i have had nothing to blog about. but i recently acquired a few gorgeous new garments/accessories and i am very excited to get some good pictures.
i have recently dyed my hair again (just re-doing the black) and have given my extensions a trim. they are now no longer ratty at the ends, they are thicker and are at a more natural length.
my septum pincher arrived a while ago, and my septum is now stretched to 2.1mm. i also got my medusa changed to a silver ball so they match. unfortunately i have also gotten my first blow out on my right stretcher. the other night i upsized to 22mm and i realised the next morning that it had turned into a blow out. it is very painful, and all i can really to do help it is regularly put bio-oil on it, and when i am able to take it out - massage it. hopefully it resolves itself and i won't have to downsize! when it is all healed up i have a 22mm steel tunnel to change it to.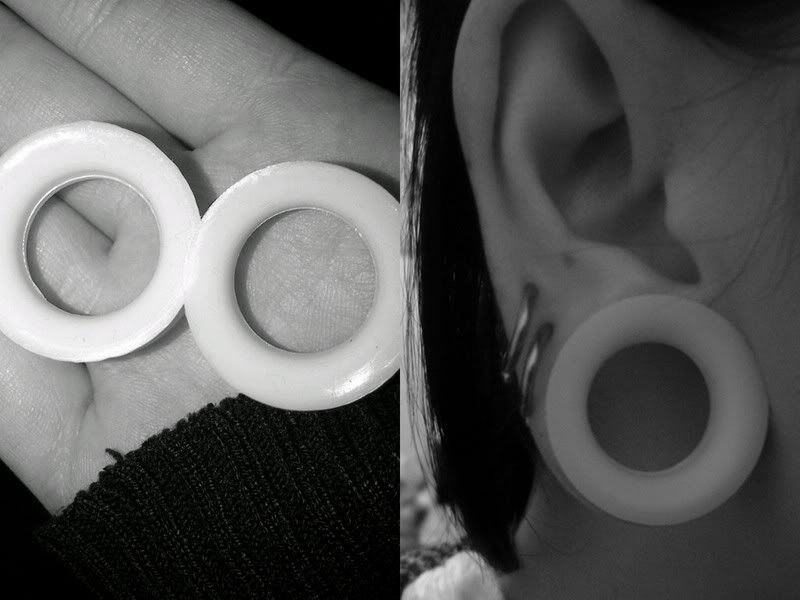 my now-22mm lobe. hopefully soon to be changed to a steel tunnel.
my pentagram choker also arrived (featured in the first photo), along with another more simple lace choker and some studs i had ordered. when i have the time and motivation i will continue on with my alterations on my clothes.