i have been meaning to post lately, (i have a few new things to show you guys), but unfortunately lately i have been feeling too insecure with my weight and appearance to be able to take photos, and hence, upload them.
this post is about my health/weight loss and my skincare.
honestly, i am loving the winter weather. i have
very
sensitive skin and the cooler weather has begun to dry my skin out, this is why i have started moisturising (with either my mango body butter from the body shop or a watermelon infused body lotion from fiji) every day/night after i shower. my skin is feeling wonderful, and i have actually received compliments on my skin since i have started doing this. it's a wonderful confidence boost.
my skin (on my face) has also been going very well. i have been moisturising like crazy on my face also due to the weather, and i have not had a single spot in weeks. for once i am very specific and careful to take my makeup off and clean my piercings before bed, no matter where i am. every night i use a special eye-makeup remover (for my sensitive eyes), then a neutrogena face scrub - and wipe off/gently massage with a warm face washer. i then use rose-hip oil (2-3 drops on a wet palm and rub together) all over my face and neck, followed by an organic rose hip moisturiser. i also use a hydrating face mask every 1-2 weeks.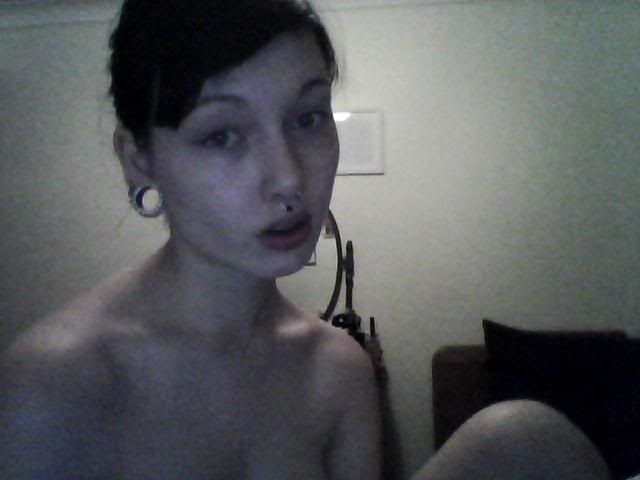 webcam quality, (obviously no make up).
looking rather sullen & ill, but i think my skin looks fabulous.
image #1 - progress photo of my thighs, image #2 - cigarettes and mother energy drink (what i seem to be living off lately), image #3 - writing in bed cuddling my puppy, she makes everything better.
eating and exercising (over the past week or so) has been pretty topsy turvy. one day i am doing wonderful and the next i binge. i have done extremely well the past three days and i am high as a kite, must remember this feeling to keep me focussed.
i don't have much to say as far as my weight issues go because i am far too insecure about it. but anyway, there is a photo.